Dr. Ruth Bar-Shalom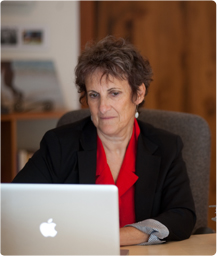 Dr. Ruth Bar-Shalom graduated from the National College of Naturopathic Medicine in 1987 with a doctorate in Naturopathic Medicine.
NCNM is listed in the PRINCETON REVIEW'S "Best 168 Medical Schools", 2007 Edition.
She also obtained a Diploma in Acupuncture from the Oregon College of Oriental Medicine. She currently holds licenses to practice Naturopathic Medicine in the states of California, Alaska and Arizona.
Born in Argentina, she completed her undergraduate studies in Philosophy and Sociology at Haifa University in Israel, where she also completed her pre-medical education.
She founded the Holistic Medical Clinic of Fairbanks in 1988, which became one of the most complete multi-disciplinary private clinics in the nation, and also served as a teaching facility to many holistic practitioners.
She has served on the faculty of the Southwest College of Naturopathic Medicine as an Associate Professor of Rheumatology and Geriatrics, and she has presented workshops at both Bastyr University in Seattle, WA and her alma mater in Portland, OR.
She is a past president of the Alaska Association of Naturopathic Physicians.
An acute mind, passion, curiosity and compassion had lead her to continually deepen her comprehension of her patients suffering and find better ways to bring about a balanced integration of the physical, emotional, and spiritual elements that interact to create wellness.
In her more than 26 years in practice, Dr Bar-Shalom has helped thousands of people with the widest possible variety of acute and chronic disorders, hormonal imbalance, fitness challenges and chronic pain; often working with patients who have not been helped by ordinary medicine or other complementary therapies.
When she is not working with patients, writing or lecturing across the country you can find Dr Bar-Shalom hiking, kayaking or snow-shoeing.